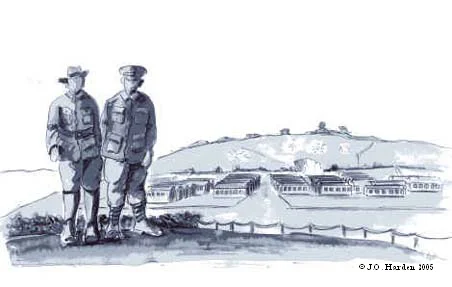 Postcards – keeping in touch
There are many picture postcards that not only give an idea of what the countryside and village looked like in that period, but, on the reverse, give a poignant reminder of the feelings of men and women far from home and aware of the dangers which they faced. One wrote, what was obviously the second of several:
' … to get a couple for Tom and three pretty ones for Bena. Don't think I'm favouring her pet, I love them all just the same, even our babe though I've only seen him on a photo. I'm hoping something will happen to send me home very soon. They are sending men out very fast now from these camps to fill the gaps and they are hardly marked fit before off they have to trot to France. I'm anxious for Harry as I've not heard … '
Did he ever get to see his new-born son? So many didn't.
Another shows a view of the High Street and on the back is written:
' … the place marked with a X is where I take our washing, too cheap to do it ourselves. We get a complete change done for 8d so you will see it doesn't pay'
You can see the postcard by clicking here and we know that a Mrs Sarah Todd Wyatt (née Jarvis) lived in this house at the time and we know that she took in washing. Her husband was the baker.
Parcels of food were gratefully received, even if some of the daintier cakes were rather crumbled by the time they arrived. Socks and pipe were 'just the sort' one soldier wanted from his mother.
Another tells of the issuing of hot-weather kit, from which they presumed they were bound for the desert of Egypt. A photograph shows them marching off in the pouring rain, splashing through the mud, to eventually board the ship for north France and Belgium. This in December!
Others found the camp
'well established with wooden huts and raised roading'.
A number of regiments of the Australian Imperial Force were camped at nearby Hurdcott Farm. Their postcards home had quite a different slant on their situation.
Many of the Aussies found snow a novelty, but they were not so enchanted with the rain and mud. One Australian wrote on the back of a postcard of the waterfall at West Farm lake,
'They call this a waterfall in England!!? They haven't seen a waterfall over here only what comes from the clouds and that is a good waterfall, it is always falling. It never stops. They want to come over to the place they call West. Aust. then they would have something to talk about. What say you Francis … from yours Albert, with the best of love'.
Another Australian called Fovant Camp
'the largest penal settlement in England … country lasses … are at a premium and not a few gallant heavy-breathing Anzacs are to be seen walking down the grove after sunset … we have a picture show which screens all the latest films up to 1898 AD. Also vaudeville stunts with ladies of the 33rd-class music halls … the YMCA library contains a most chaste set of books, General Booth's Darkest England, poems by Ellen Wheeler Whitesox … '
M.A.M.
2005
Content last updated
2 January 2007